The Role of Executive MBA Programs in the Professional Development of Managers in the Baltics
By Evita Lune, Partner, Country Manager Latvia
This article discusses the role of Executive MBA programs in managers' professional development in the three Baltic countries: Estonia, Latvia and Lithuania. An Executive MBA program is a professional Masters Degree program, which enrols managers with a minimum of five years working experience and a previous University degree (not necessarily economics or business). This part-time two years modular program involves international faculty and interactive teaching methods.
This article analyses why it is relevant for managers, who are successful in their careers, to come back to school again.
Learning and Education Gap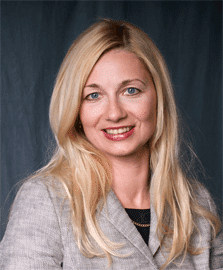 Currently, executive positions in the three Baltic countries are, to a large extent, occupied by managers, who are 35 to 45 years old, and who have not had a chance to receive the education that is appropriate for today's market economy, since they attended University under the previous political regime.
For the generations of executives who are 35 years of age and older, the most typical education obtained during the previous political regime was that of an engineer for men and of a philologist for women. This is a generalisation, of course, but it indicates a pattern in the societies of the post socialist countries.
Some of these former engineers are currently working as directors or board members in local and international companies. They manage their companies by demonstrating their strengths in logic, planning, systematic thinking and interest in technologies. Typically, financial management, marketing and legal issues related to the business environment are weaker areas for these managers.
Many philologists, in their turn, have switched to service industries or have developed as marketing managers. Communication skills, command of foreign languages, ability to network and develop contacts has ensured their success. This group of executives is weaker in financial management, IT issues and strategic planning.
In addition to specific gaps in the professional skills, Baltic managers often have never had the opportunity to place themselves in real learning environments outside their day-to-day job. The changes that the Baltic managers have implemented in their firms in the last fifteen years are huge. They have considerable operational and day-to-day management skills, but to become visionary, strategic, creative, it is often beneficial to be in a different learning environment, such as an Executive MBA program.
Back to School Again
Some of the EMBA program participants have highlighted that besides development of general management skills and knowledge, these programs have shaped them into different personalities, stronger leaders, who are interested in and able to inspire and persuade their colleagues with examples and cases from other global and local companies, which they discuss during classes.
Development of a strong network of contacts with managers from various industries in the Baltics is another relevant aspect beyond the curriculum. This is interesting for Baltic nationals as well as foreigners, who come to the Baltics for medium or long-term business activities. They can get a high quality education and develop their network at the same time.
The question arises why these executives need to participate in such a program if they have managed to successfully build their companies and delegate or subcontract specific professional duties (e.g. finance, IT or marketing) to their colleagues our outsourced companies. This is due to another category of relevant skills that are useful to highlight:
Ability to see the big picture – the role of the company on a global arena - and to switch to the details whenever necessary. For example, they are able to assess the feasibility of introduction of a new IT system, the accuracy of an accountant's work or efficiency of a marketing manager,

Once their companies have reached a certain level of development, besides the basic skills of business development, more sophisticated knowledge in financial management, people management and corporate governance is required.
Participant's quote: "Participation in an EMBA program gave me a new perspective in terms of team work and team management. I was delighted and interested to develop coursework together with the senior managers from other industries in the Baltics." Ainars Ozols, Vice President of SEB Unibanka.
Participant's quote: "I found it very useful to come back to the same school. Although my first education was very good and some of the courses delivered were similar, coming back to the same issues with my current working experience gave me a completely new and different understanding of the same concepts. In addition to that, studying in a group of 20 executives is completely different from studying in a group of 120 secondary school graduates." Roberts Stugis, Head of Financial Analysis Department, Parekss Bank, alumni of BSc and EMBA Programs at the Stockholm School of Economics in Riga.
Henry Minzberg and other researchers have highlighted that management subjects can hardly be taught to people without significant working experience. They even compare teaching management to a person who has never been in business with teaching psychology to someone who has never met a human.
Some of the Executive MBA program participants already have one or even two master degrees (e.g. economics and law); some of them are partners in global consulting firms or have experienced international careers with multinational corporations. Still the interaction with professors and the group, and systematic and high quality discussion of all relevant management subjects is a lifetime experience for them.
Last, but not least, the executives who have been going through an Executive MBA, do not stop there. They become far more aware of their own limitations and the need for continuous learning and development as a leader and manager. As one of my experienced executive search colleagues from Pedersen & Partners expressed it: "Once a CEO looses his passion and enthusiasm for learning and making his team learn, the count-down has started".
Summary
Experienced managers benefit from enrolment in Executive MBA program in the following ways:
development of general management knowledge and skills,

ability to differentiate their company and ensure its sustainability,

development of a network of contacts with executives in a range of industries,

development for leadership potential and communication skills, and command of the English language,

ability to see "the big picture",

strengthen existing position or create a good ground for one's career development,

positive personality change and life time experience.
---
Pedersen & Partners is a leading international executive search firm. We operate 43 wholly owned offices in Albania, Armenia, Austria, Azerbaijan, Belarus, Bosnia and Herzegovina, Bulgaria, Canada, Croatia, Cyprus, Czech Republic, Egypt, Estonia, Finland, Georgia, Germany, Greece, Hungary, India, Iran, Israel, Kazakhstan, Latvia, Lithuania, Macedonia, Moldova, Mongolia, Nigeria, Poland, Romania, Russia, Saudi Arabia, Serbia, Slovakia, Slovenia, South Africa, Turkey, Ukraine, United Arab Emirates and Uzbekistan. Our values Trust - Relationship - Professionalism apply to our interaction with clients as well as executives.