Iraklis Papadopoulos on the Greek Labour Market, "VoltaMagazine"
September 2013 - Athens, Greece - During a financial crisis, searching for opportunities in international markets is something that is expected. Greeks, who adapt to the new reality, do not hesitate to look for managerial roles abroad. Many may argue that a "brain drain" is taking place, but to these, and other questions, Mr. Iraklis Papadopoulos, Executive Search consultant, is providing us with answers.
How can the crisis be viewed as an opportunity in the Greek labour market?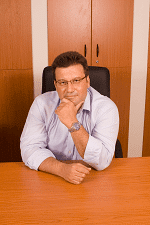 The financial crisis can be seen as an opportunity as long as one swiftly adapts to the new environment. Change and challenges motivate executives to improve their skills and knowledge and to seek career opportunities abroad. These very executives are the ones who will benefit most from the crisis as they will be better positioned to take advantage of professional opportunities when the crisis ends in Greece.  
It is a great loss that many young people leave Greece in search of opportunities abroad. What are your thoughts?
In free market economies, executives tend to seek out opportunities globally. Knowledge and experience acquired abroad will allow executives to hold more senior managerial roles upon their return to Greece.
There are Greek senior managers leading MNCs abroad. What is the general perception abroad with regards to Greek managers?
Many Greek executives have successful careers abroad, holding senior positions in MNCs and enjoying a very good reputation as they are distinguished by their skills and knowledge, their flexibility and their entrepreneurial spirit.
Pedersen & Partners is active around the globe. Where do you see employment opportunities for Greeks? Are there any trends regarding types of jobs and markets?
Pedersen & Partners is present in 47 countries. Through our network of 50 offices, we see that there are opportunities almost everywhere. I would say most of these arise in North America, the Gulf Region, Sub-Saharan Africa and South East Asia. Growth rates in certain countries are such that there is no nationality preference for executives as long as they are capable of effectively operating in multicultural environments. This, for example, is very important at Pedersen & Partners, where 56 different nationalities coexist and interact on a daily basis. With regards to types of positions in demand, I would say these tend to vary, depending on the development strategy each country has.
Can a university graduate apply through Pedersen & Partners? What kinds of candidates would be relevant for you?
Our candidates are executives with considerable experience in their field or highly specialized skills.
What would be your message to young people?
The message is that they need to be optimistic and focused on the targets set and work hard towards achieving them. Human capital is the most precious of all, for any company; therefore there will always be opportunities for those who are well prepared. I truly believe the competent, hardworking and talented always find their way, no matter how unfavourable the economic environment might be.
With regards to their studies, I believe young people should choose a career based on what they truly like, and find inspiring. It is by this way that they will manage to stand out from the crowd. Recruitment executives tend to look for candidates that, apart from their formal qualifications, possess the necessary talent and drive.
Published by VoltaMagazine
Download the original in PDF:
Iraklis Papadopoulos, VoltaMagazine, Sep 2013.pdf