Law firms have an obsolete business model, "Avocatura"
Bucharest, Romania - As with most foreigners who come to Romania, Ulrik was drawn by the tale of Dracula. And as with many foreigners who come to Romania, he fell in love with a local girl – who happened to be an attorney at one of the greatest law firms in the country. Ulrik Rasmussen is a former footballer and globetrotter; these days he is a Partner at a top executive search firm. He says that Pedersen & Partners is no ordinary recruiter of top and middle management, but provides unique insights into the clients' needs, which is key in this business. We had a talk with this Romania-loving Dane about the biggest issues facing Romanian law firms (and service providers generally) and why the promotion system that most of them use is obsolete. Finally, we discussed why "jumping ship" is seen as tantamount to treason in the industry.
Avocatura.com: Firstly, please tell us a few things about you.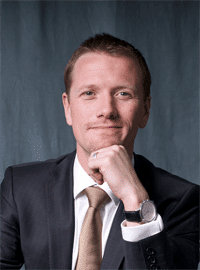 Ulrik Rasmussen: I am from Denmark, which I left nearly 20 years ago. Before settling in Romania over a decade ago, I lived in Belgium for quite a while, and also in France. I currently live in Romania, where I fulfil many roles within our organization. Our firm Pedersen & Partners has 53 wholly owned offices in 50 countries. Our offices are fully integrated which means that we operate as one global firm, with no franchises and no network. Essentially, the 50 countries in which we operate function as a fully-integrated single office.
I am fortunate to be a Partner and one of the co-owners of the entire business. That is me in a nutshell.
Avocatura.com: Pedersen & Partners. The name sounds like a law firm, but you are actually a leading company in the international recruitment of top talent. Why Romania? And for how long have you been active on the market?
Ulrik Rasmussen: The company was founded thirteen years ago in the Czech Republic. We then opened offices in Poland and Hungary, with Romania established as our fourth office. When I first joined the firm, we had only four offices and six staff. Now we have nearly 400 employees across 50 countries in 53 offices. Our Romanian office has seven people.
Avocatura.com: Are we speaking about high-level headhunting?
Ulrik Rasmussen: We are speaking about the recruitment of top and middle management. When you work in many emerging markets, you can't allow yourself to handle only top level positions, so we try to combine things. We handle middle management, but of course we prefer to work with senior management if we can.
Avocatura.com: I know you used to be a professional footballer. How did you come to work at Pedersen & Partners? Please tell us about your background…in football.
Ulrik Rasmussen: I played many years in Denmark for a club called Randers, which was promoted to the first Danish division. I had the pleasure of playing there for most of my youth. I also played a little in the Danish national youth team. When I was about nineteen or twenty, I took a half-year break from football. When I returned to the sport, a Danish agency called me and told me that a club in Belgium was interested. At the end of the transfer period, I was offered a trial and we signed a contract. So I played football in Belgium for six years, but I also had the opportunity to study because I was living in Leuven, which is a university town.
Avocatura.com: Did your team play in the first division in Belgium?
Ulrik Rasmussen: Yes. Unfortunately, I didn't, because I wasn't promoted.
Avocatura.com: What position did you play?
Ulrik Rasmussen: Number 10, behind the strikers.
Avocatura.com: Going back, how did you start working at Pedersen & Partners in Romania?
Ulrik Rasmussen: I first came to Romania 20 years ago to see Dracula's castle. Obviously I visited Bucharest, and I said: "What fantastic potential this city has!" I liked your country and I said to myself that when circumstances permitted, I would love to come back.
Avocatura.com: What did you know about Romania back then?
Ulrik Rasmussen: Very little, to be honest. Just Dracula's castle, Bucharest…but I visited Sighisoara, Brasov and a few other places, and the country seemed great. So, about thirteen years ago I decided to pack my bags and come back. I met the founder of the company right here at the Hilton, and that was when I became involved with executive search. Of course, at that time I did not know what it meant. He said "I am building an empire – join my company!" And so I did, by pure coincidence.
Avocatura.com: It is said that finding the right person for a position is a monumental task and choosing the ideal man can be a key factor for a successful project.
Ulrik Rasmussen: Indeed it is. As recruiters, our job is not to find people. Finding people is the easy part. LinkedIn has made my life much easier in terms of identifying and finding people. When we sit at the table with the client, we often need to define the issue. So, when you receive a call from Coca-Cola saying that they need a Country Manager and someone from London wants this and that, very often that kind of position doesn't exist. And things were just the same thirteen years ago, when I started this business.
What we tried to do was basically to understand their business model. First, we define the real problem that the client wants to solve. Then we look at the neighboring businesses. We may decide to buy a business or to give up certain parts of it, in order to remain competitive. Once we know how to solve the problem, it is easy to recruit – the client realizes that the problem can be solved. This is what we call executive search.
"Finding people does not define executive search. You have to understand the business, just like a good lawyer does."
"Finding people" is not the definition of executive search – it is just the easy part. You can always find people. But to really understand the client's business, to be a value-added service provider – that's like being a good lawyer. At the end of the day, if you truly understand the client's business…let's say you are a Real Estate Lawyer and someone comes and asks you for a due diligence, and you say: "Do not buy, because the market will change over the next two to three years. You will see a decline in the market, and as the buyer of this property, you will lose out. But what I suggest you do is to look at these other market segments." That is what a true consultant does.
This is the approach applied in executive search. Finding people – such as a senior manager – is not executive search, not in our book.
Avocatura.com: Have you ever been given a mandate for a similar executive search by a Romanian law firm? Is it common for Romanian firms to go down this road, and how does the process work?
Ulrik Rasmussen: I have never worked for a law firm in Romania – at least, not in terms of recruitment. I have had some legal employment in Romania, in areas such as Pharma and Real Estate.
Avocatura.com: The first time we spoke, you were speaking somewhat enigmatically of the "biggest problem" of law firms in Romania. Can you expand on this?
Ulrik Rasmussen: In my opinion, it is not only a problem for law firms, but for service providers in general, who are struggling with an obsolete business model. Service providers face a different problem than car manufacturers for example, and other industries where you can follow a supply chain.
Because service providers cannot do this, it is very difficult to monitor and understand who gives the best performance, and how to position yourself so as to add value to the supplier. When you do what others do, it becomes standard and you end up with a price wall. As a good service provider, what you really need to do is to stand out from the pack, to add value and make real money.
However, this is very hard to do. Many organizations accept the price wall and offer more standard services.
"I had never heard of any Romanian law firms outside Romania. But they are locally recognized and preferred because they are cheaper".
Avocatura.com: Romanian law firms boast of the international awards they have received. Are we being given a realistic picture? Are these firms really internationally recognized?
Ulrik Rasmussen: Of course, we work with many international law firms. And many of our customers, for example Coca-Cola, operate worldwide. We do not often hear about Romanian law firms outside Romania, but we know that when international companies work here, there is a clear recognition of Romanian firms. When international companies do business in Romania, there is a strong preference for Romanian law firms, due especially to their competitive pricing.
Avocatura.com: And because they know the market.
Ulrik Rasmussen: Yes, but international firms know the market as well. They operate using global arrangements which tend to keep the prices high, because they are negotiated abroad, while local law firms have much more flexibility in this regard.
Avocatura.com: Do you think that Romanian legal professionals are different from international lawyers? Are they preferred over foreign law firms? And where do Romanian managers have room to improve?
Ulrik Rasmussen: What I see is a very interesting mix. I see a dual reality – again, this is not exclusive to local law firms, although they are a good example. The legal sector is a relatively young profession in Romania. If you look back, a decade ago every senior lawyer had to work with many different industries, which made it very general in terms of professional exposure. Back then, lawyers in Romania probably had a broader perspective and understanding on many legal issues.
If you go to London, you can easily find an attorney who has handled intellectual property for his entire professional life, and who could have been a lawyer for ten years without ever working outside IP. But it is rare for a lawyer who has worked at a large Romanian law firm for ten years to have worked in only one sector. In Western Europe, specialization is clearer, but lawyers in Romania have a broader view of the business, as they combine different things in their work.
"It remains to be seen what Romanian lawyers have learned. You must go through two economic cycles as a lawyer in order to advise the client really well".
Avocatura.com: Is this a good thing or a bad thing?
Ulrik Rasmussen: In my opinion, it's a good thing, from a point of view. The flipside is that we had an immature market for so long, with many changes of legislation and so on. I have only seen one recession in the last ten years and we have not yet fully emerged from it, so I do not yet know what has been learned in this decade. A true depth of experience comes from someone who has worked as a lawyer for twenty years, and been through at least two economic cycles. This knowledge can be used when the lawyer advises his client.
Probably most of the lawyers in Romania cannot claim such knowledge, because they have not practiced law for two full cycles. So here I see an interesting separation between what you learn as a lawyer and when your knowledge is actually applied.
Avocatura.com: Is changing firms at the executive level equivalent to betrayal? And how would you convince such a character to join your client?
Ulrik Rasmussen: I do not think that jumping ship is betrayal. Of course, it is a problem because most lawyers who run big companies generally graduated together, so they know each other well. It is an industry with common roots, where everybody knows everybody else; they gossip about each other and know each other's history. So from this point of view, I can understand why it could be tantamount to treason.
Most lawyers are very competitive. They made many sacrifices to finish college and get a good position. We are talking about big egos, very competitive individuals. I can easily imagine why there are many conflicts, and why it is not easy to go from one company to another, either in-house or from a corporate law firm.
Generally, people love stability. During the good times before 2008, there was so much money and therefore more satisfaction. Whatever you were doing, the money was coming in. Now people have realized that they can no longer earn money so easy. They work harder for less money and they're exhausted. So most are interested in in-house promotions, but there are not many in-house positions these days. When you were paid so well for so long, it's hard to move to an organization where the compensation is, let's say, a third of what you got in the good days. And this creates a struggle for many legal professionals.
"Promotion schemes are flawed – and the legal industry is no exception".
Avocatura.com: Tell us about billing. Can you expand on the subject, in particular on how to rise to the top in a law firm?
Ulrik Rasmussen: One of the most common errors made by almost every service provider is promoting managers based on how much money they make. In most cases, a manager must attain a certain number of fee-earners on the team to make a specific amount of money, and when you achieve that, you are promoted to partner. As a partner, you must continue to be an important biller, but you must also handle your management responsibilities. When the economy is going well, everything you do brings money in through the door. But when the industry stagnates and you don't notice any increase in the income, you will suddenly have to devote more time to management and work harder for less money.
The only reason to become a manager is because you want to be – because you feel that you can contribute something valuable and you want to devote your energy. It's something wrong when you want to become a manager, but you're not excited to be one. This is what we see with most promotion schemes. If you want to become a partner and get all the benefits, the percentage of ownership etc., you must drive and build. Today, this system is obsolete.
 
Download the original in PDF:
Casele de avocatura au un model de business depasit