Client Partner Radu Mavrodin: Human capital innovation through collaboration, "jurnalul.ro"
Bucharest, Romania – Human capital management specialists are betting that developments in work-from-home and freelancing arrangements will take over much of the productivity in international markets across almost all fields.
In Britain, for example, 93% of companies are currently framed as "microbusinesses," but these microbusinesses contribute only 3% to the national GDP. Preeminent management thinker Charles Handy predicts that these numbers will change, with more and more freelancers – "flies" – being engaged by "elephants" – large organisations – on special projects of relatively short duration. The flies will move from company to company, working on several projects simultaneously.
In Romania for example, the freelancing phenomenon has increased significantly with players in the field beginning to understand who can and who cannot work in this way. Initially, employers were concerned about the lack of professionalism and interest from freelancers who were offered major contracts for projects; however, this tended to happen because employers made choices based on lowest prices alone, rather than taking the specifics of the contractor's CVs into account and choosing professionals with a proven track record in appropriate projects. However, this issue has been resolved in recent years, with more and more individuals going freelance – sometimes even working for their former employers.
Outsourcing to freelancers exempts employers from significant costs such as office space, utilities, taxes, food vouchers, transportation and other loyalty bonuses. The freelancer's only incentive is the contractual payment, and thus the "fly" becomes the partner of the "elephant" and is incentivised to focus on the success of the project.
The "Proud Architect of HR Innovation" conference by HR Club Romania is the region's most important international annual HR event, and is attended by HR specialists who present successful solutions from across Europe, in the hope that Romanian specialists can gain fresh insights into the organisational changes that they can make to enhance the business.
"Innovation is the keyword this November. I see two ways in which HR can innovate. We can talk about innovation in terms of changing processes when they are old and obsolete, or we can react directly, leaving the processes unchanged. This depends on the degree of freedom that an individual HR manager has. If processes are obsolete and innovation does not occur at the central level, the HR manager has the option of trying local initiatives to resolve the problem. Again, this takes courage, a strong personality and a very good relationship with the general manager, so that they address the change together," explains Radu Mavrodin, Client Partner at Pedersen & Partners and HR Club President.
Adapted from http://jurnalul.ro/bani-afaceri/piata-muncii/trendul-muncii-cu-musculite-in-toate-tipurile-de-companii-725095.html
---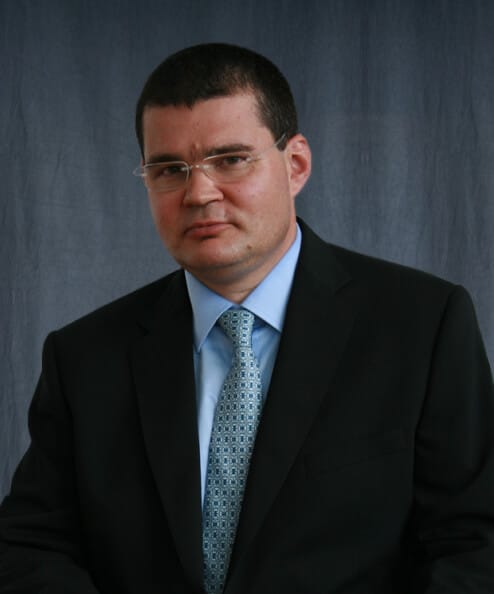 Radu Mavrodin is a Client Partner at Pedersen & Partners, based in Bucharest, Romania. Mr. Mavrodin is a cross-functional expert with over 18 years' experience in senior level HR and business management roles in the Automotive, Construction and Building Materials industries in Europe and Africa. With both corporate and operational exposure across geographies, his focus areas include industrial relations, turnarounds and large-scale culture transformation programmes, competencies models, change management design and succession planning.
Mr. Mavrodin started his professional activity with Lafarge, where he held various roles in Bucharest and Paris, ranging from Strategy Director, e-Business Partnerships Director, Africa Business Controller to Divisional Country Director. Entering the Human Resources field with Michelin in 2005, he successfully managed the HR function for the Balkan  states and Romania (Bucharest), after which he transferred to the Michelin headquarters in Clermont-Ferrand as Competencies Project Leader. Prior to joining Pedersen & Partners, he spent seven years with Renault as HR Director of Renault Romania, VP HR for the Euromed-Africa region and HR Director of Oyak-Renault in Turkey.
---
Pedersen & Partners is a leading international Executive Search firm. We operate 56 wholly owned offices in 52 countries across Europe, the Middle East, Africa, Asia & the Americas. Our values Trust, Relationship and Professionalism apply to our interaction with clients as well as executives. More information about Pedersen & Partners is available at www.pedersenandpartners.com
If you would like to conduct an interview with a representative of Pedersen & Partners, or have other media-related requests, please contact: Diana Danu, Marketing and Communications Manager at: diana.danu@pedersenandpartners.com
Download the original in PDF:
NR_Client Partner Radu Mavrodin: Human capital innovation through collaboration, "jurnalul.ro"